MotoFins are customizable universal helmet fins inspired by 90s motocross and brought back with a new modern look and function! Our patented design allows the fin to bend and conform to almost any helmet. Water resistant and aerodynamic it is also crushable and does not interfere with helmet safety. We use 3M technology to make applying the MotoFin easy while maintaining a strong bond. With so many designs and custom options to choose from - you're guaranteed to stand out.
Real Customer Designs
Some of our favorite customer designs weve seen come through our online design tool! Choose from our color changning backgrounds or upload your own. Endless possibilities. Design your own Custom MotoFin now!
Safety Tested
Our soft crushable patented design ensures helmet safety and does not alter the helmet from the condition it was tested and approved. Data provided by Dynamic Research inc.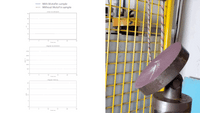 Universal Fitment
Our pliable design bends and conforms to fit almost any helmet! As long as the surface is smooth and non obstructing. And with 3M adhesive vhb tape it's sure to stay put.